UPDATE, January 13 2022:  At the end of December 2021, academic publisher Elsevier presented a 7th proposal for a new contract to UK Universities. The sector's Elsevier Negotiation Team has evaluated this proposal against the UK Universities sector's requirements, in discussion with Jisc's strategic groups and sector bodies. A rapid sector consultation on the proposal is now underway.   
The University of Cambridge has not yet made its decision on whether to accept this offer. Detailed analysis of the offer and comments from the academic community will help inform this decision, as will information about the intent of other research institutions across the sector.  
This confidential paper prepared for members of the University of Cambridge provides an update on the negotiations and invites comments from the academic community on the 7th proposal received from Elsevier (Raven-access required). Please be aware that the timeframe for responding to this specific proposal is short.  
Feedback may be provided via this online form, by email to consultations@lib.cam.ac.uk, or through the School and Department representatives on the Journal Coordination Scheme Steering Committee and Consultative Committees (find details of these representatives in the paper linked above).  
Responses received by the library team by 10am on Monday 17 January 2022 will inform the University decision.
Whilst negotiations are continuing, Elsevier have agreed to maintain our current read-access to journals beyond the current subscription's expiry date of 31 December 2021. 
---
Explore this short presentation to learn why UK Universities are negotiating with Elsevier, and what it means for the academic community at the University of Cambridge: 
---
Why are these negotiations happening?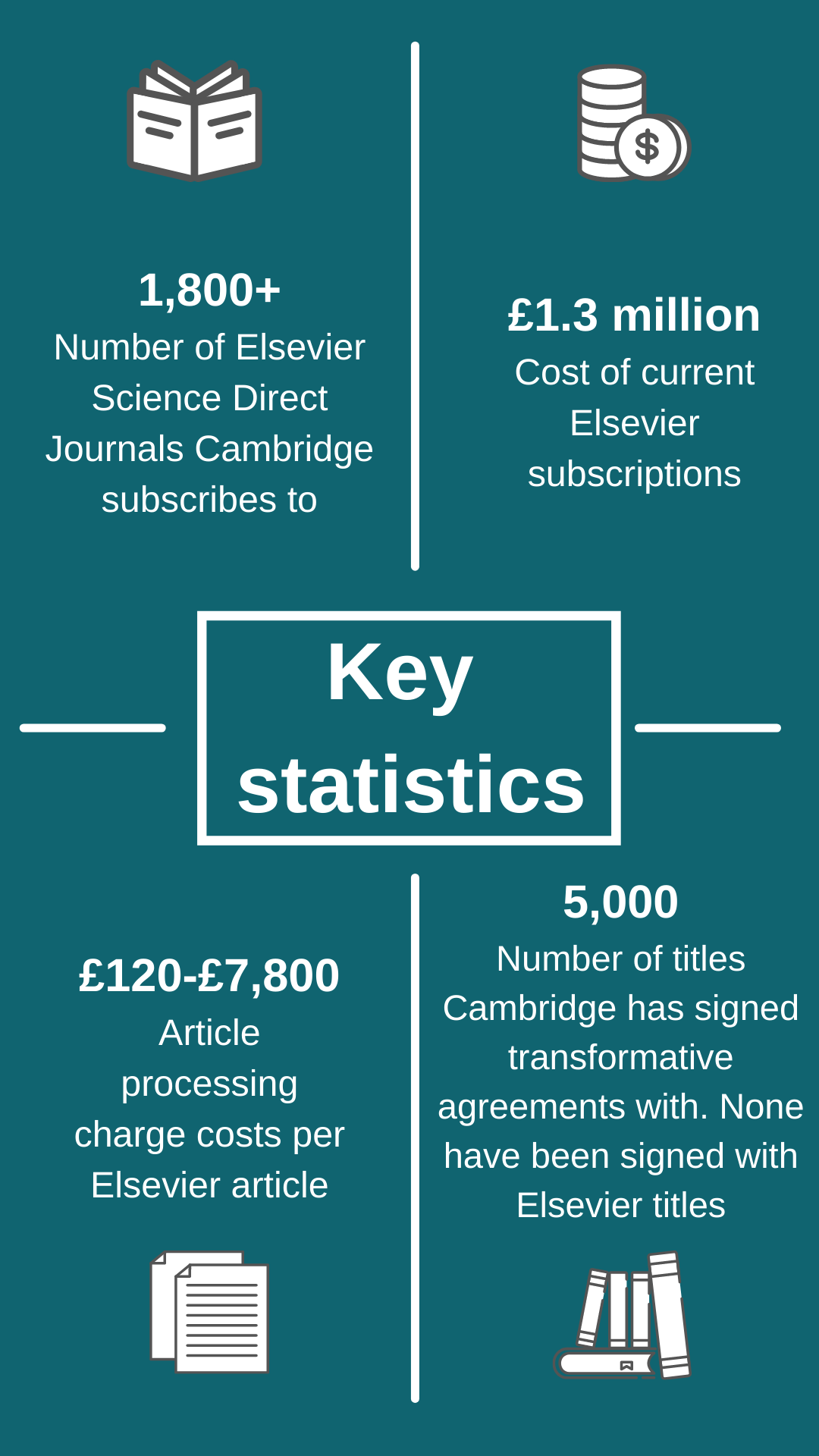 The University subscribes 1,800 ScienceDirect comprising a significant portion of the literature that our researchers engage with daily. The University pays £1.3 million for the current subscription deal with Elsevier, enabling University members and users of our libraries to access Elsevier journals online.
Our authors also publish extensively in Elsevier journals, which incurs additional costs in the form of Article Processing Charges (APCs) - the fees charged by publishers to make an article open access in one of their journals. An individual article can incur between £120 - £7,800 in APCs when a Cambridge author publishes in an Elsevier journal. There is currently no open access agreement in place with Elsevier, and open access fees are paid on an article-by-article basis where funding is available.
The contract between Elsevier and UK Universities is due for renewal in December 2021.
The UK Universities sector is entering negotiations with Elsevier with two core objectives: to reduce costs to levels UK universities can sustain, and to provide full and immediate open access to UK research. The aim is to secure a read and publish agreement with Elsevier, converting subscription expenditure to support immediate open access publishing, and maintaining access to paywalled content for a reduced fee. Such models of 'transitional' or 'transformative' agreement are supported by Plan S funders.
---
Who is negotiating?
UK Universities agreed their priorities for the next Elsevier agreement in 2020 and began negotiations in March 2021. The negotiations are governed by two groups; the Universities UK content negotiation strategy group and the content expert group. Representatives from each group sit on the official negotiation team and Jisc, the UK not-for-profit digital services provider for education and research, facilitates the overall negotiations.
---
How is the University of Cambridge involved in the negotiations?
The University of Cambridge is represented in these discussions by the Journal Coordination Scheme (JCS) Steering Group and the Open Research Steering Committee, who are working with Cambridge University Libraries to gather information and data to inform institutional responses to proposals and influence negotiations. Senior leaders, including the JCS Chair and the Pro-Vice-Chancellor for Research, are closely engaged with these groups and with the University's response.
Throughout the year, representatives from these groups have been talking to members of the University to gauge priorities across the disciplines - from discussions with Heads of Schools and briefings to School Councils and Research Committees through to Town Hall meetings open to all members of the academic community at Cambridge.
Our libraries have been analysing data about past usage of, and publishing in, Elsevier journals in Cambridge, providing our academic community with a picture of the implications of any proposed deals.  
---
Contribute your voice
To support planning and analysis throughout the process we are keen to hear all voices, from across disciplines and roles, to ensure the University's decision is rooted in the interests of researchers and students at all levels. 
Our informal feedback form has been available to you since April, and we continue to invite you to use it to send us your thoughts on the negotiations until a final decision is made. 
A rapid sector consultation on the 7th proposal runs from 10 January 2022. Responses received by the library team by 10am on Monday 17 January 2022 will inform the University decision to accept or reject the 7th proposal. This update provides further information.
A structured consultation period ran 01-24 November 2021, providing a formal opportunity for members of the University of Cambridge to comment on the impact of a potential loss of seamless access to Elsevier titles from January 2022 and on the impact on publishing within individual disciplines. 
To learn more about how your feedback makes an impact, visit the page: Tell us what you think about the Elsevier negotiations. 
---
What happens if a deal is not agreed?
The collective ambition of UK Universities is to negotiate a Read-and-Publish deal with Elsevier that meets the sector's requirements on costs and open access.
In October 2021, the UK Higher Education sector was unified in supporting the rejection of Elsevier's sixth proposal, on the grounds that it did not yet meet the two core objectives of the negotiations: to reduce costs to levels which are sustainable, and facilitate rapid transition to full and immediate open access to UK research. A statement by the sector is available at University Alliance; Guild HE Research; Russell Group, and Million Plus. You can also read Jisc's response to this statement. Details of Elsevier's subsequent proposal will be shared when available.
As negotiations continue, institutions are positioning themselves to ensure that we have a realistic alternative access solution if the decision is to not sign an agreement. This alternative solution is known in the UK University sector as 'Plan B'.
Explore what this would mean for accessing content and publishing open access - What is 'Plan B' if a deal is not reached?
---
Follow the negotiations
---
Remind yourself of the key facts and figures in this bite-size infographic!